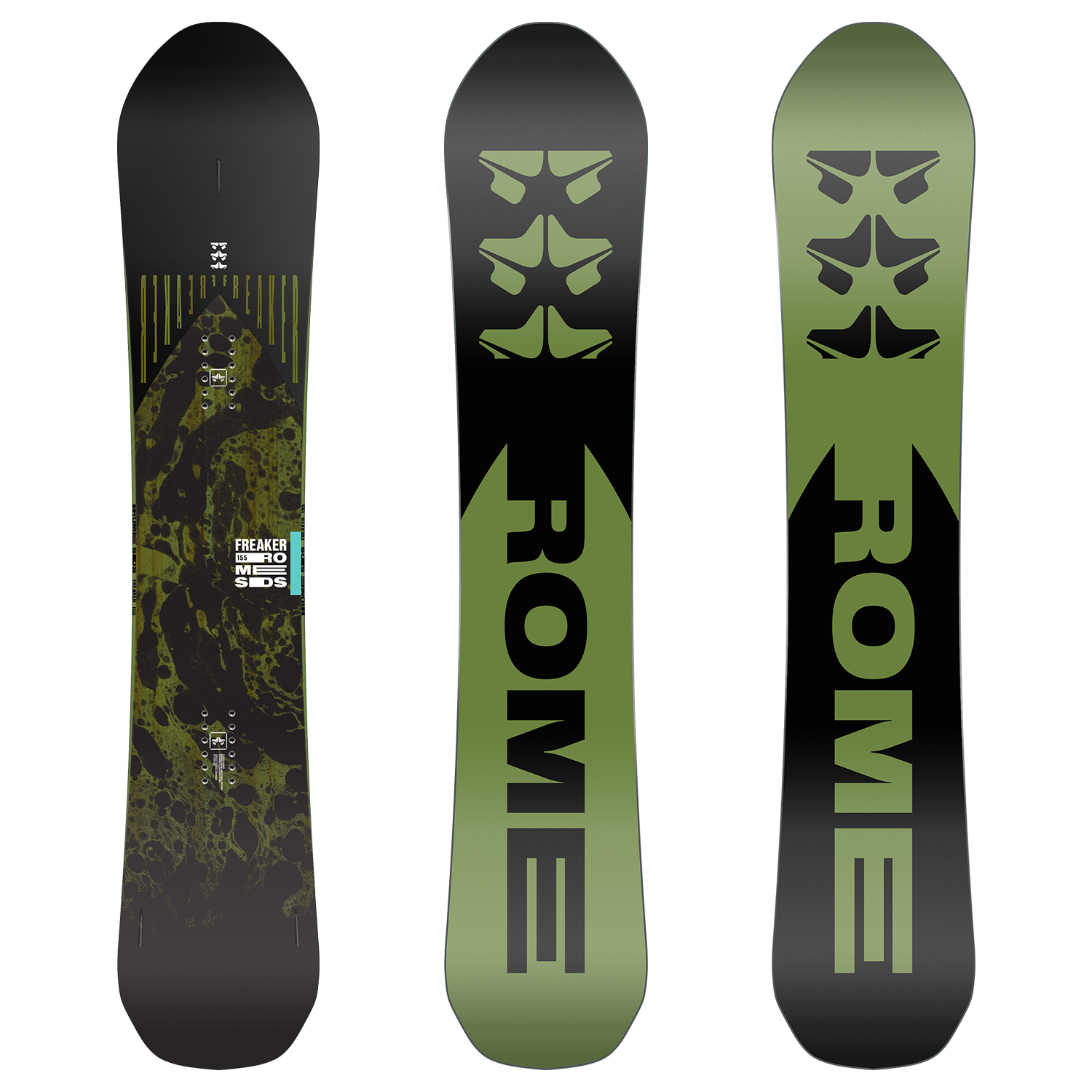 Rome Freaker Snowboard 2022
---
The Freaker is a board that lives in the moment– untethered in the expectations of a directional twin or a park board or a free ride board– it just goes with the flow. The secret of this sauce is Fusion Camber backed with a snappy flex and unique Directional Triple Bamboo Omega HotRods. Creativity abounds, whether it's spinning tweaked out jump laps, sending unseen sidecountry gaps or laying trenches through the ski schools. Freak on Freaker.
FEATURES:
FLEX: 
 7
FUSION CAMBER
Positive camber with small pockets of rocker at the contact points; the modern go-to for all-mountain performance.
DIRECTIONAL TWIN
Boards designed with slightly longer noses than tails, but with both symmetrical sidecuts and symmetrical camber profiles.
BAMBOO OMEGA HOTRODS
One bamboo HotRod in the board's nose and two bamboo HotRods in the tail; powerful and versatile. Made of carbon, Omegas act as housing built around the HotRods and are designed to provide additonal power and responsiveness.
TRIAX GLASS
Fiberglass running in three different axes, built for torsionally rigidity and added snap.
POP CORE
Our most versatile and durable core, built with alternating strips of 20mm strips of poplar and 20mm strips of paulownia.
BIAX GLASS
 Fiberglass with two different axes, built to be more torsionally playful and flexible.
SINTERSTRONG BASE
The new go-to, this hardworking base is easy to fix with great wax retention. A low maintenance daily driver for riders of all ability levels.

BOARD SPECS
| SIZE (cm) |   | 152 | 155 | 158 | |
| --- | --- | --- | --- | --- | --- |
| CONTACT LENGTH (mm) |   | 1110 | 1140 | 1170 | |
| EFFECTIVE EDGE LENGTH (mm) |   | 1180 | 1210 | 1240 | |
| WAIST WIDTH (mm) |   | 251 | 254 | 256 | |
| TIP WIDTH (mm) |   | 295 | 299 | 302 | |
| TAIL WIDTH (mm) |   | 294 | 298 | 301 | |
| SIDECUT (m) |   | 8 | 8 | 8 | |
| REF. STANCE SETBACK (mm) |   | 0 | 0 | 0 | |
| INSERTS |   | 2x4x12 | 2x4x12 | 2x4x12 | |
| MIN REF. STANCE WIDTH (mm) |   | 493 | 493 | 519 | |
| MIN REF. STANCE WIDTH (inches) |   | 19 | 19 | 20 | |
| MAX REF. STANCE WIDTH (mm) |   | 613 | 613 | 639 | |
| MAX REF. STANCE WIDTH (inches) |   | 24 | 24 | 25 | |
| WEIGHT RECOMMENDATION |   | 67 | 73 | 79 | |