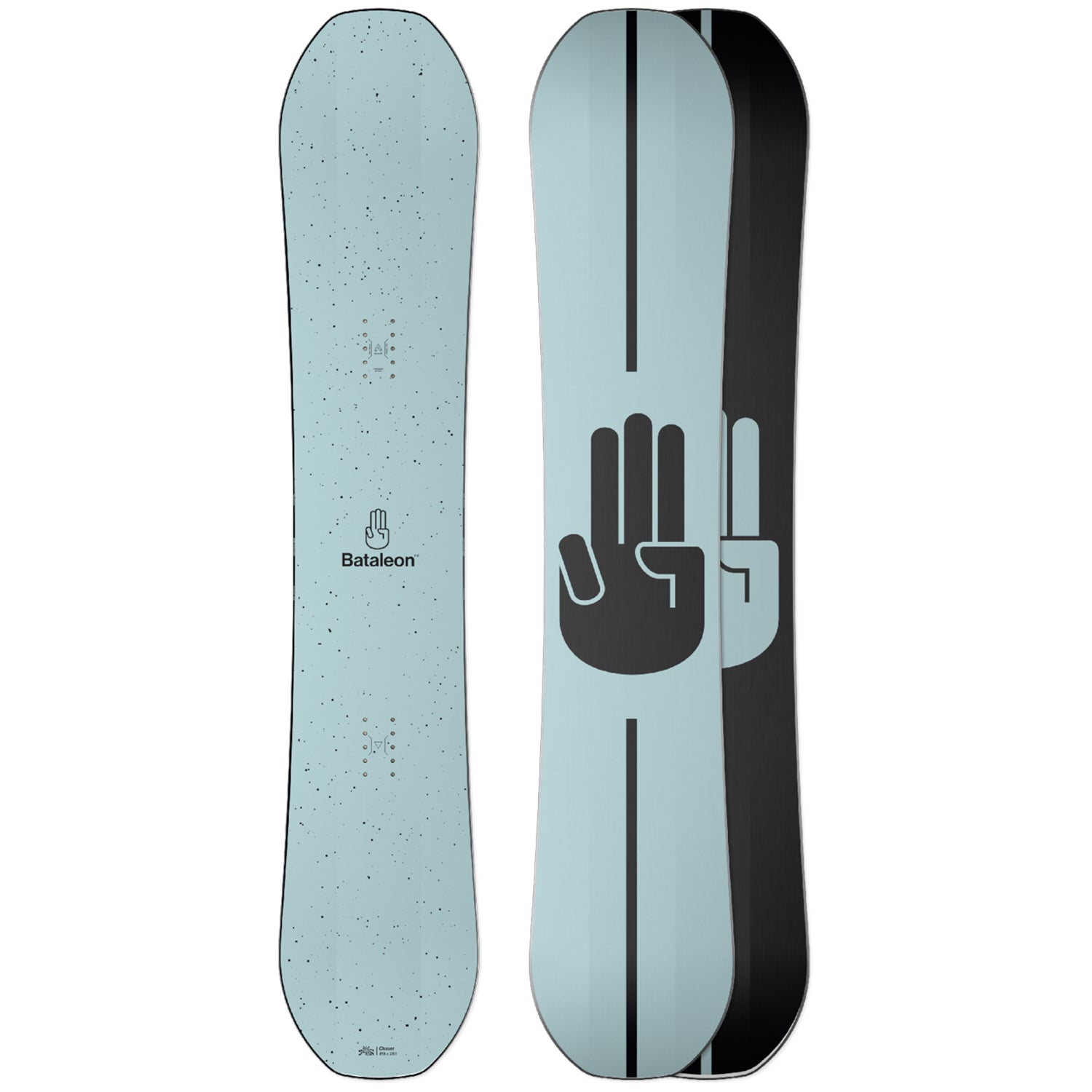 Bataleon Chaser Snowboard 2023
---
Chase the dream with the Bataleon Chaser. This mid flex board with 3D shaping is ready to take your all-mountain riding to new heights.
Beginner/Intermediate Rider Level

Soft/Playful Tip to tail flex

Medium Torsional Flex

Best for Park, Mountain, Freestyle and Powder
Featured:
Freestyle 3BT™Triple Base Technology™ is awesome. The lifted sidebase areas at the widest points of the board make a lot of sense. The boards turn smoother and faster and it helps when you are not completely clean on your landings.
Sidekick™SideKick™ Tips enhance 3BT™'s advantages like nothing you experienced before. SideKick™ dramatically increases the sidebase uplift at the widest points of the nose and tail. This makes turn initiation even smoother, increases float in powder and handling of the board in rough terrain. It has to be ridden to be believed!
Core Core 50-50 Swiss paulownia and poplar woods blends for optimal strength to weight properties. Full poplar beech hardwood laid tip to tail along the inserts strengthening the board's backbone, reinforcing the inserts and producing more pop.
Hyper Glide S Our standard sintered base that's durable and fast – and even faster when you keep it waxed.
Biax Laminate Traditional and Time tested two-way weave fiberglass is light, strong and responsive, keeping the board snappy without adding torsional stiffness.
Flip Flop Base Boards with Flip Flop base have two or more base color variations. This is used to reduce waste. 
Shock Walls This is a new Urethane infused sidewall technology. They Smooth out your ride and are most resistant to impact.
Sizing
| | | | | | | |
| --- | --- | --- | --- | --- | --- | --- |
| Length | 149 | 152 | 155 | 157 | 159 | 159W |
| Contact Length  | 112 | 114 | 117 | 118 | 120 | 123 |
| Effective Edge  | 114 | 116 | 119 | 120 | 122 | 125 |
| Waist Width  | 24.6 | 24.8 | 25.1 | 25.3 | 25.5 | 26.5 |
| Tip/Tail Width  | 28.7 | 28.9 | 29.3 | 29.6 | 30.9 | 31.2 |
| Sidecut Radius   | 7.55 | 7.6 | 7.75 | 7.85 | 7.95 | 8.05 |
| Setback  | 0 | 0 | 0 | 0 | 0 | 0 |
| Inserts | 20 | 20 | 20 | 20 | 20 | 20 |
| Min-Max Stance  | 51-59 | 52-60 | 54-62 | 55-63 | 56-64 | 56-64 |