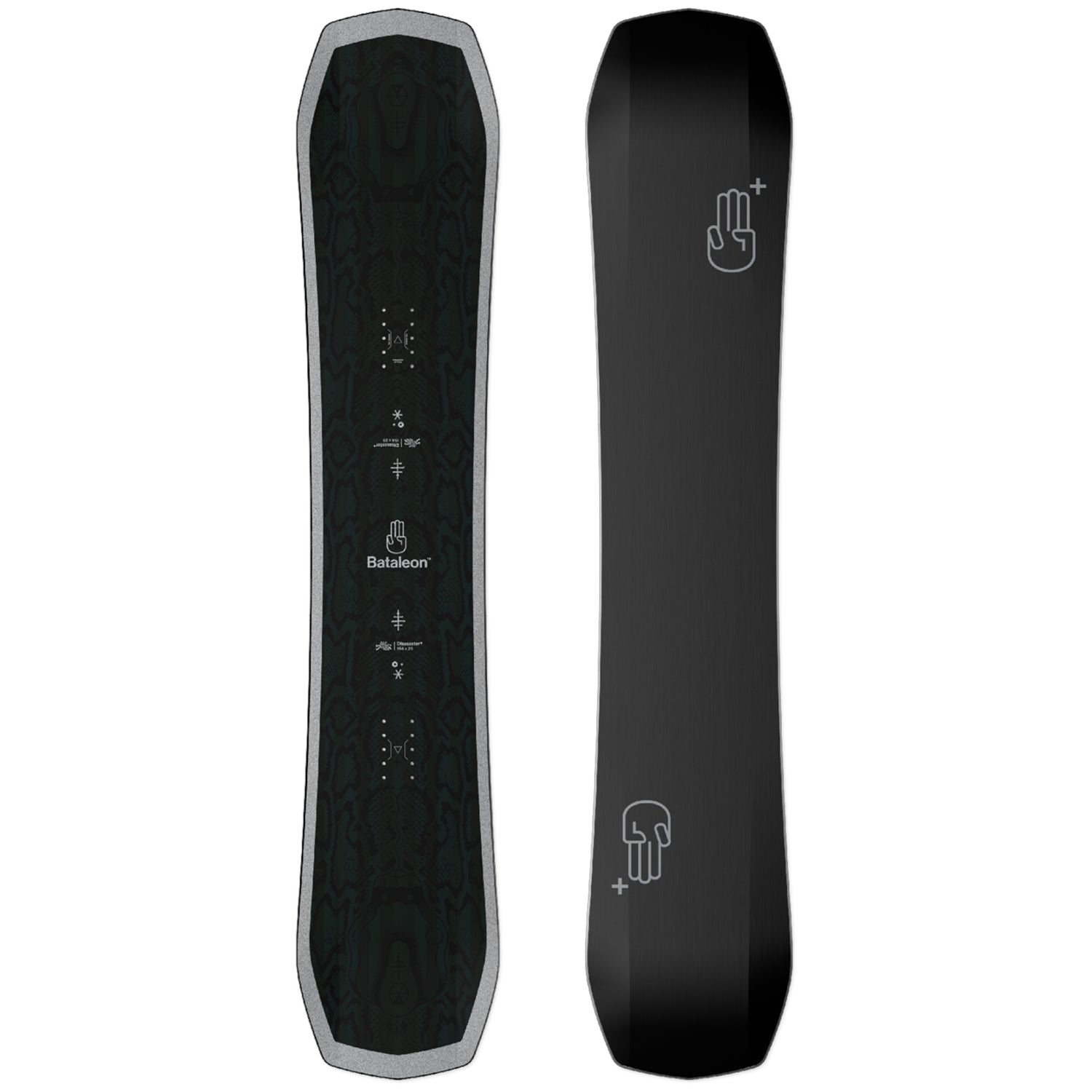 Bataleon Disaster + Snowboard 2023 - Blem
---
A Blem is a like-new condition snowboard with minor cosmetic blemishes. This may include things such as marks and scratches but will perform the same as a brand new board right out of the wrapper. All blemished boards also come with their standard manufacture warranties.
The Disaster + is one of the lightest, fastest and most responsive jib boards on the market. We packed it full of high end materials you normally only find on freeride and all-mountain boards, giving riders a truly unique freestyle experience.
Intermediate/Advanced Rider Level

Best for Jibs/Park
Features:
3BT™ 
At the heart of every Bataleon is a combination of 3BT™ and positive camber. It's an innovative solution to the profile puzzle that minimizes the potential for edge-catch without sacrificing ollie power or carving performance. From this starting point, we fine-tune each element according to the boards desired riding style.
SideKick™ The revolutionairy SideKick™ dramatically increases the sidebase uplift just outside the widest points of the nose and tail. This makes turn initiation smoother, increases float in powder and improves handling of the board in rough terrain.
SUPER TUBES
A space-age E-TPU foam that provides next-level chatter and impact absorption no matter the conditions.
Shock Side Walls
This is our Urethane infused sidewall technology. ShockWalls smooth out your ride and are more resistant to impact.
LightCore 
50/50 Paulownia and poplar creates a balanced core that's lively yet strong.
Hyper Glide S Our standard sintered base that's durable and fast – and even faster when you keep it waxed.
Biax Laminate
Traditional and Time tested two-way weave fiberglass is light, strong and responsive, keeping the board snappy without adding torsional stiffness.
C.S.T Super Tubes 
Central Super Tube, a single Super Tube down the middle of the board enhances pop without stiffening the board torsionally. Great for jibbing.
Carbon Stringers
Our tried and tested carbon layups. We deploy them in different areas to fine-tune the feel of each model.
Sizing
| | | | | | | |
| --- | --- | --- | --- | --- | --- | --- |
| Length | 148 | 151 | 153W | 154 | 156W | 157 |
| Contact Length  | 109.3 | 111.9 | 114 | 114.5 | 116.6 | 117.1 |
| Effective Edge  | 111.3 | 113.9 | 116 | 116.5 | 118.6 | 119.1 |
| Waist Width  | 24.6 | 24.8 | 26.6 | 25 | 26.8 | 25.2 |
| Tip/Tail Width  | 28.4 | 28.7 | 30.6 | 29 | 30.9 | 29.4 |
| Sidecut Radius   | 7.5 | 7.6 | 7.7 | 7.7 | 7.8 | 7.8 |
| Setback  | 0 | 0 | 0 | 0 | 0 | 0 |
| Inserts | 20 | 20 | 20 | 20 | 20 | 20 |
| Min-Max Stance  | 52-60 | 53-61 | 54-62 | 54-62 | 55-63 | 55-63 |