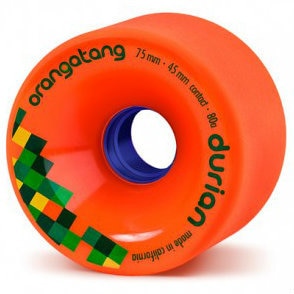 Orangatang Durain Blem Longboard Wheels- 80a
---
Orangatang Durain Blem Longboard Wheels- 80a
Blems:are cosmetic only such as dings, scratches, and goofs on the graphic. Nothing that will effect the warranty, quality or performance.
Diameter: 75mm
Width: 52mm
Contact Patch: 45mm
Durometers: 80a, 83a, 86a
Bearing Seat: Offset
Formula: Happy Thane
Core: high-strength, high-stiffness, heat-resistant urethane
Much like its botanical namesake, the Durian is a big, meaty, and succulent gob of urethane designed to carry you across town to the not-so-local fruit stand or to be smeared liberally over your favorite downhill freeride run. Combining an offset bearing seat and relatively wide contact patch with stiff, rounded lips results in a product that feels like a blend between a perfectly broken-in race wheel and a driftier freeride wheel. A tall and moderately wide internal core provides just enough support for clean and chatter-free slides without compromising the wheel's plush ride and progressive level of traction. The stone-ground contact patch ensures buttery-smooth slides right out of the box.