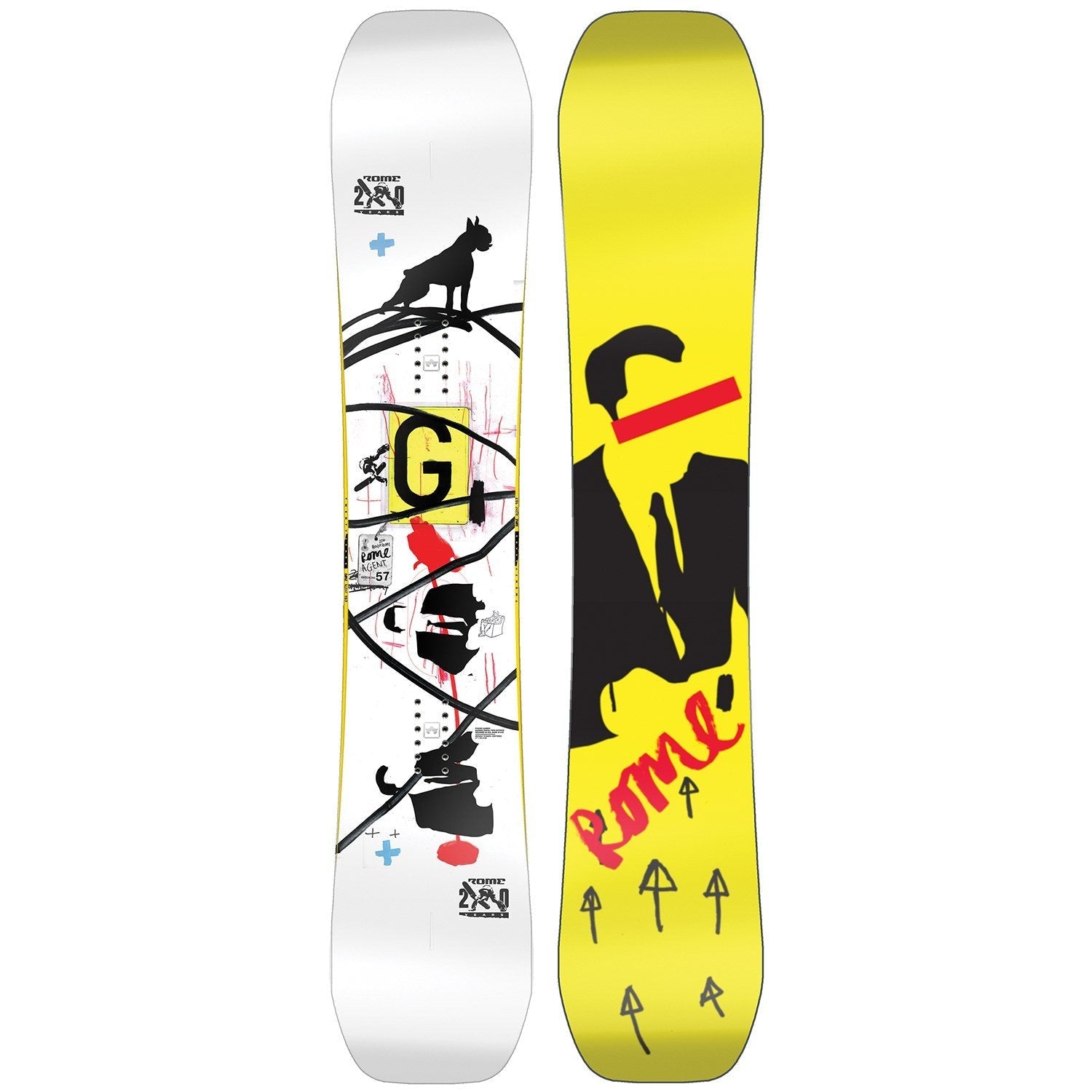 Rome Agent 20th Anniversary LE Snowboard 2023 - Blem
---
A Blem is a like-new condition snowboard with minor cosmetic blemishes. This may include things such as marks and scratches but will perform the same as a brand new board right out of the wrapper. All blemished boards also come with their standard manufacture warranties.
The Agent is a true heritage board for Rome. Built with the ride-anything sensibilities of Fusion Camber, a lively and responsive flex profile and now upgraded with our Double Kick in the nose and tail for locked in presses and riding out of sketchy landings. This true twin is built around the idea that responsive boards make everyone a better rider.
FEATURES:
FLEX:  5
FUSION CAMBER Positive camber with small pockets of rocker at the contact points; the modern go-to for all-mountain performance.
TRUE TWIN Boards built with fully symmetrical spec: sidecuts, flex patterns, camber profiles and nose and tail lengths.
DOUBLE KICK Double Kick is an aggressive, two-part rise in the board's nose and/or tail, built for increased pressability and better landings.
BAMBOO OMEGA HOTRODS A single bamboo HotRod in the board's nose and tail; pressable yet poppy. Made of carbon, Omegas act as housing built around the HotRods and are designed to provide additonal power and responsiveness.
STOMP CORE Our most stable and predictable core, built with 100% poplar construction.
BIAX GLASS Fiberglass with two different axes, built to be more torsionally playful and flexible.
SINTERSTRONG BASE The new go-to, this hardworking base is easy to fix with great wax retention. A low maintenance daily driver for riders of all ability levels.
| SIZE (cm) | 151 | 154 | 157 |
| --- | --- | --- | --- |
| CONTACT LENGTH (mm) | 109.4 | 112.1 | 114.9 |
| EFFECTIVE EDGE LENGTH (mm) | 116.4 | 119.1 | 121.9 |
| WAIST WIDTH (mm) | 25.1 | 25.2 | 25.4 |
| SIDECUT (m) | 7.8 | 7.98 | 8.16 |
| REF. STANCE SETBACK (mm) | 0 | 0 | 0 |
| INSERTS | 2x4x12 | 2x4x12 | 2x4x12 |
| MIN/MAX STANCE (cm) | 46.8-58.8 | 49.34-61.34 | 49.34-61.34 |
| MIN/MAX STANCE  (in) | 18.4-23.1 | 19.4-24.1 | 19.4-24.1 |
| WEIGHT RECOMMDENTATION(LBS) | 123-167 | 134-178 | 147-191 |
| WEIGHT RECOMMDENTATION(KG) | 56.0-76.0 | 61.0-81.0 | 67.0-87.0 |